Frequently asked questions about Medicare Donut Holes:
How does the Medicare donut hole work or what does it mean?
A donut hole is where the Medicare prescription drug coverage goes into a coverage gap or "donut hole" where you, the patient, have to pay for drugs out of your own pocket. Not good!
When does the donut hole start?
In 2018 your coverage gap generally starts once you and your plan have spent $3,750 on covered drugs.
When does the donut hole end or when does it go away?
In 2018 you get out of the donut hole when you have paid $5,000 out-of pocket for covered drugs since the start of the year. When you reach this out of pocket limit, you get Catastrophic Coverage.
When you reach Catastrophic Coverage, you pay either a 5% coinsurance for covered drugs or a copay of $3.35 for covered generic drugs and $8.35 for covered brand-name drugs, whichever is greater.
Can you avoid the Medicare donut hole?
One of the most common ways to avoid going into the donut hole is to buy low cost generic medications throughout the year. You must try to avoid the expensive brand name medications that can speed you right over the cliff into the donut hole. Generic drugs are required by the FDA to have the same ingredients as the brand-name version, at the same dosage, be administered the same way, and be proven to have the same effect. Ask your health care provider if any of your prescriptions can be switched to generics.
Another way to save money and avoid the donut hole is to order 90-day supplies of you generic medications at a discount. Pure Life Pharmacy specifically has plans to encourage the 90-day supply purchase of generics. We have a "buy 2 months get the 3rd month FREE!" program on the most popular maintenance med generics.
Please click this link to see a list of our generics on promotion.
Here are some reference links for more information on the Medicare donut hole:
The Donut Hole from Medicare Interactive
STUCK IN THE
MEDICARE DONUT HOLE?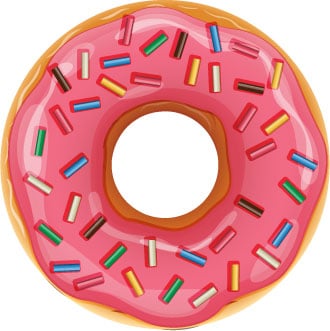 WE ARE YOUR
SELF PAY SOLUTION
TO AFFORDABLE GENERIC MEDICATIONS