Veterinary Benazepril/Ranitidine Oral Paste
| PET WEIGHT/MED. STRENGTH | PRICES |
| --- | --- |
| All Strengths | $45/30 doses |
| All Strengths | $75/60 doses |
| All Strengths | $90/90 doses |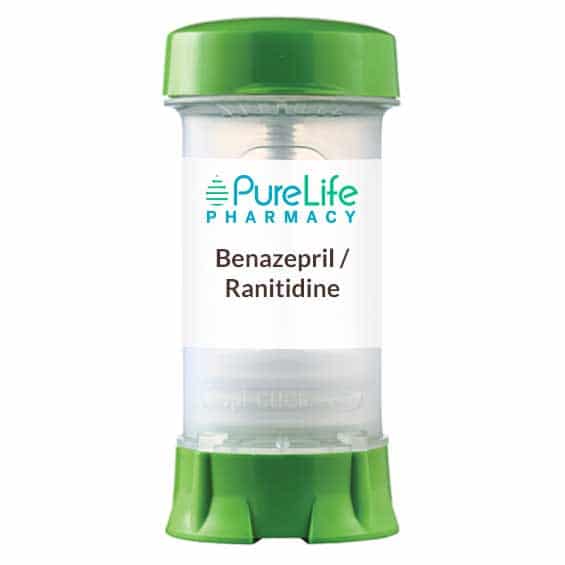 Available in an oral paste
What is Benazepril?
Benazepril (brand names: Fortekor®, Lotensin®, Apex®, Benazemav®, Benefortin®, Bexepril®, Nelio®, Prilben®, Vetace®) is an angiotensin-converting enzyme (ACE) Inhibitor used to treat heart failure, high blood pressure, and various types of kidney diseases such as chronic kidney disease and protein-losing glomerulonephropathies. It may also be useful for treating idiopathic kidney bleeding.
Its use in cats and dogs to treat cardiovascular and kidney disease is 'off label' or 'extra label'. Many drugs are commonly prescribed for off label use in veterinary medicine. In these instances, follow your veterinarian's directions and cautions very carefully as their directions may be significantly different from those on the label.
Information on this medication quoted from VCAHospitals.com
What is Ranitidine?
Ranitidine is used in the treatment and prevention of ulcers occurring in the stomach and small intestine in dogs and cats. It is also used to treat stress-related or drug-induced erosive gastritis, esophagitis, and esophageal reflux. Ranitidine may be used to stimulate contractions of the stomach and also for stimulating bowel activity in cats and rabbits. It may also be used in rabbits for the treatment of stomach ulcers. The medication works by reducing the amount of acid secreted in the stomach.
Information on this medication quoted from VCAHospitals.com