| PET WEIGHT/MED. STRENGTH | PRICES |
| --- | --- |
| 5 - 15 lbs. | $39.99/6 pack |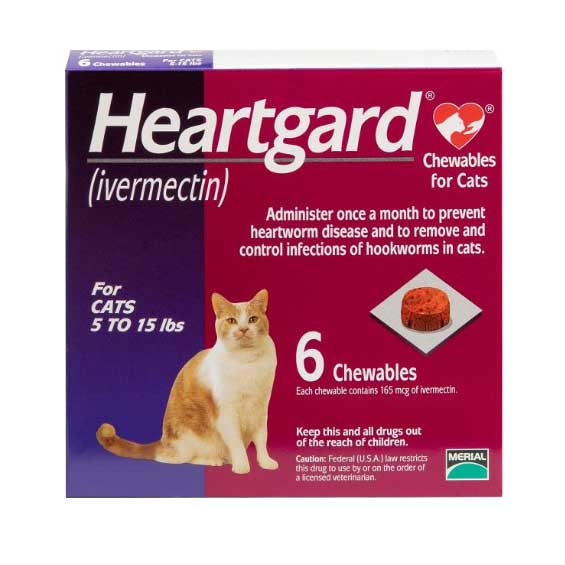 ts of chewables have occasionally been observed in the feces of some cats; efficacy of the product was not adversely affected.
HEARTGARD for Cats should be given at monthly intervals when mosquitoes potentially carrying infective heartworm larvae are active. The initial dose must be given within a month (30 days) after the cat's first exposure to mosquitoes. The final dose must be given within a month (30 days) after the cat's last exposure to mosquitoes. For optimal performance, HEARTGARD for Cats must be given once a month on or about the same date. If treatment is delayed, whether by a few days or many, immediate treatment with HEARTGARD for Cats and resumption of the recommended dosing regimen will minimize the opportunity for development of adult heartworm.
It is recommended that cats should be tested for existing heartworm infection prior to starting treatment with HEARTGARD for Cats. Cats already infected with adult heartworms can be given HEARTGARD for Cats monthly to prevent further infections.
Monthly treatment with HEARTGARD® (ivermectin) for Cats also provides effective removal and control of adult and immature hookworms (A. tubaeforme and A. braziliense).
Information on this medication quoted from drugs.com