How do I get my medication delivered in Alabama?
February 16, 2021
|
|
Blog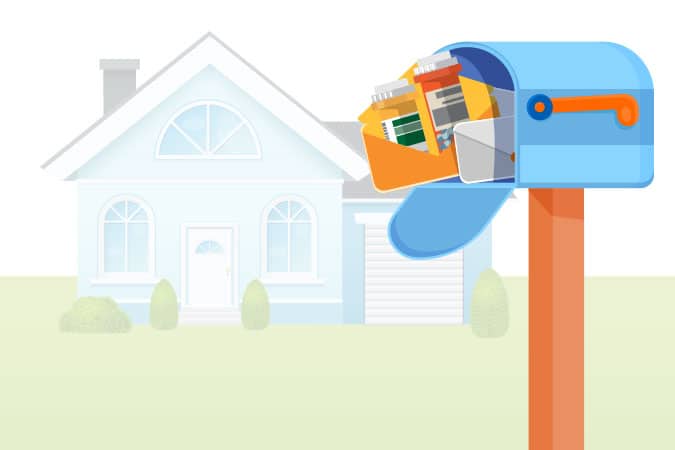 In the past, the only way to get your medication from a pharmacy was by visiting in person, waiting in line, or going through the drive-through.  Now, with mail-order pharmacies or pharmacy delivery services, you can have your prescriptions delivered directly to your home.  With our current COVID pandemic, it's not only a service; it's a necessity.  There are many people who must stay far away from possible infected individuals.  This post will discuss why having a local pharmacy with mail and delivery services is the best combination of convenience and service.
Big Chain Pharmacies Delivery Services in Alabama
The big chain pharmacies like CVS, Walgreens, Publix, and Walmart are still the popular choice for most pharmacy goers.  And over the past year, these pharmacies have begun offering delivery for their customers.
How do the big chain pharmacies deliver/ship your medications?
These big chain pharmacies will either mail you your medications through the postal service, UPS or FedEx. Some pharmacies will have a third-party business, like Shipt, do the same day delivery for an additional fee.
What do I have to do to switch to delivery with a big chain pharmacy?
Every large national pharmacy does it a little differently.  CVS allows you to choose a mail or delivery option via text when they notify you your prescription is ready.  If you are a Walgreens customer, you can enroll in Walgreens Express at the drive-through window, at checkout, or when they send you a notification that your prescription is ready.  Publix wants you to download their app, create an account, and enroll.  Walmart patients will have to call 1-800-2REFILL to get started (as I was researching this blog, I noticed that Walmart might have stopped accepting new patients in their pharmacy home delivery service).  At Pure Life Pharmacy, there is no enrollment process because we like things simple.  When you talk to us about your prescription over the phone or in person, we will ask if you would like your medication delivered or mailed out.  You can change your delivery method any time you want by giving us a call and talking directly to one of our pharmacists or technicians.
How much does it cost to have your prescription delivered from a big chain pharmacy?
The delivery cost from these national pharmacies is usually between $4.99 and $7.99 (sometimes more than $15 for overnight delivery).  Some pharmacies like Walgreens and Walmart will offer free standard shipping, but you may be waiting a couple of days to receive your medicine through the mail.  Some will have an option for same-day delivery, but that cost may run as high as $20 in some cases.  Getting your prescriptions through the mail may have some other drawbacks that must be considered.  The mail may be unpredictable, and your prescription may arrive late or damaged.  What is your pharmacy's policy for medications lost or damaged in the mail?  Can you go to the big chain pharmacy's local store and get your lost or damaged medication replaced?  These are the questions that need to be answered before deciding to use your pharmacy's mail service.  Pure Life Pharmacy has a FREE delivery service we encourage everyone to use.  Our in-house delivery driver delivers your medication without sending your prescription through the mail, FedEx, or UPS.  Many patients find our free delivery service is the best option for them.
Mail-order Pharmacies Delivery Services in Alabama
Mail-order pharmacies are not new; in fact, the first mail-order pharmacy was in 1946.  In 2019 Alabamians ordered roughly 2,300,000 prescriptions through mail-order pharmacies compared to the approximately 75,600,000 filled at retail pharmacies.  That is only around 3% of total prescriptions.  Let's take a more in-depth look at how these mail-order pharmacies work to see why so few patients use this service.
How do mail-order pharmacies work?
Receiving your prescriptions through a mail-order pharmacy may be difficult at first, but once you are signed up, it can be easy.  If you have health insurance, your provider probably has a partnership with a specific mail-order pharmacy.  Your doctor can send your prescription directly, or you'll fill out an order form online or through the mail and attach the prescription. Depending on your health insurance, certain mail-order pharmacies may be preferred or restricted. Within about a week, your meds will arrive at your door — usually a 90-day supply.
The cost to use a mail-order pharmacy is free and, in some cases, may offer certain pricing benefits on prescriptions.  One of the main drawbacks to a mail-order pharmacy is the time it takes for your prescriptions to arrive at your house.  The first delivery may take up to 2 weeks or longer, depending on the mail order pharmacy available to you.  Waiting for a few days for a prescription is fine for some medications but not practical for others.
Can I use a mail-order pharmacy if I don't have insurance?
Most mail-order pharmacies are hard to use, if not impossible, when a patient doesn't have insurance. There are a few mail-order pharmacies that try to work with patients who do not have insurance. PillPack and Amazon Pharmacy are national mail-order pharmacies that will work with patients who lack insurance coverage on some medications.  Working out the details of what you can and can't afford over the phone or online can be a mess.   When you don't have insurance coverage, a mail-order pharmacy may only offer some of your needed prescriptions at an affordable price.  If you can't get all of your medications through the mail-order pharmacy, what's the point of using them at all?  With Pure Life Pharmacy, there is no need to use multiple pharmacies to save on monthly medical bills.  We are a pharmacy that specializes in affordable medications, and we have delivery services.
There are other potential drawbacks to mail-order pharmacies that must be considered when choosing a pharmacy for home delivery.  Some questions you may want to ask yourself when thinking about using a mail-order pharmacy are: Who do you talk to if you have a reaction to a new medication or if you want to know if there is a more affordable generic option?  How do you change your shipment schedule if you are about to go on vacation and can't sign for the shipment?  How easy is it to work with the mail-order pharmacy to stop the current prescription shipment and change it to a new prescription?  Lastly, one of the most significant drawbacks is the lack of the patient's relationship with the pharmacist.  Some patients prefer to talk to a pharmacist about their medications in person.  Talking to a pharmacist directly is not possible for mail-order pharmacies.  At Pure Life Pharmacy, we pride ourselves on our customer service. Our fantastic team loves spending time with patients to resolve the very issues mentioned above.
Final Thoughts
The pandemic has changed the way pharmacies operate.  Almost all pharmacies, from the independents to the big chain pharmacies, now have delivery or mail services.  Each pharmacy does it a little differently and has different costs associated with their delivery service.  At Pure Life Pharmacy, we have always offered home delivery with no enrollment process.  We made it free, easy, and we provide you with excellent service that only an independent community pharmacy can.
~Jeffrey
Jeffrey O. Hoover is the Founder and Owner of Pure Life Pharmacy. Learn more about Jeffrey.